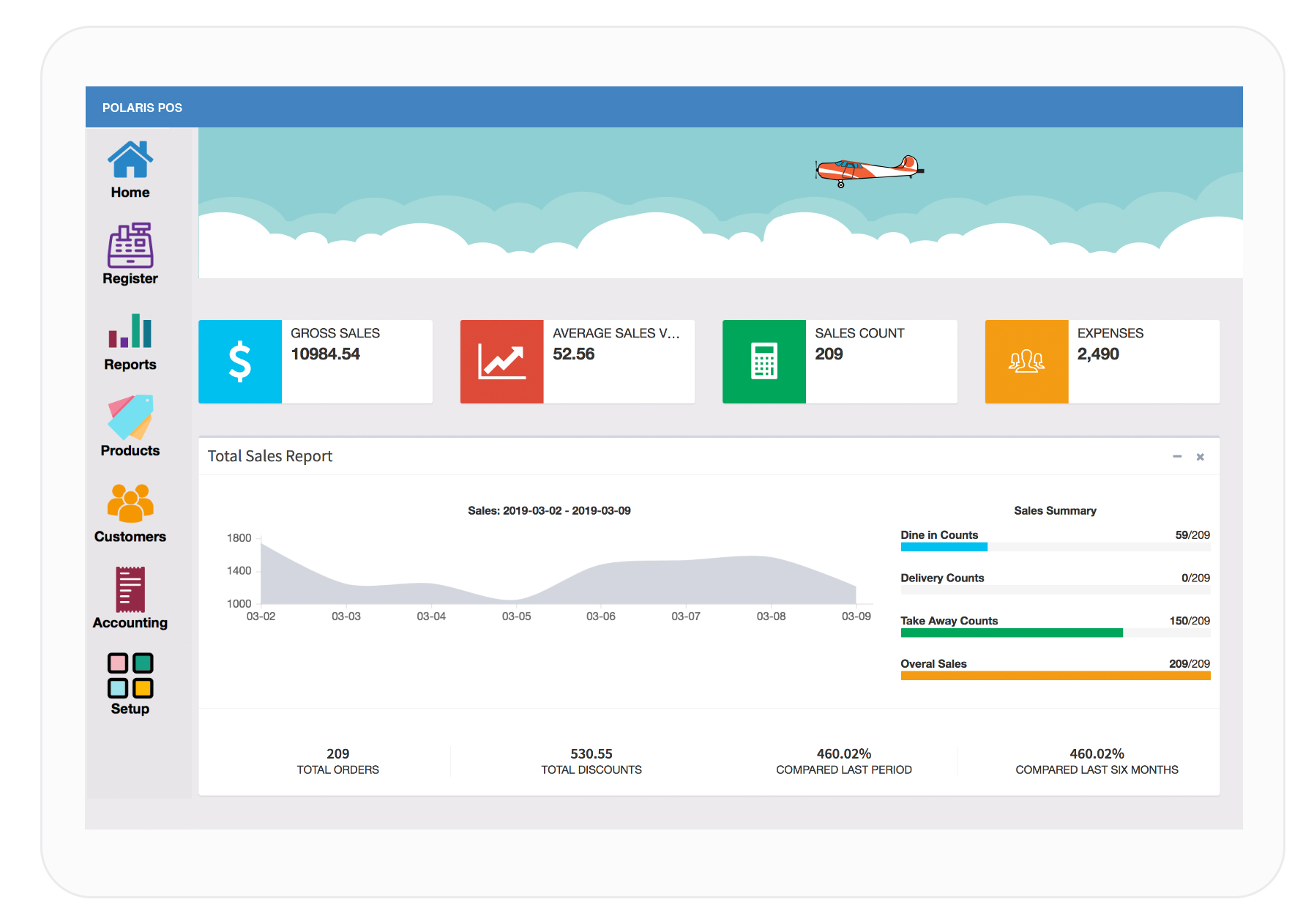 Polaris Cloud-based
Point-of-Sale your
partner for growth.
Finding the right POS solution provider that has everything you need for your business,
and someone that will be there every step of the way can be like finding a needle in a haystack.
Polaris POS is a retail and restaurant software solution provider that is committed in providing the tailor fit solution for
small and medium business, delivering with pride the top notch customer support for our clients.
WEB BASED OR MOBILE POS

Polaris Cloud-based POS works on PC, Tablet/Ipad or Mac. All together are connected in cloud network. All you need to run it is a working browser and Internet Connection

BEAUTIFUL AND EASY TO USE

Polaris POS is very intuitive, easy-to-navigate and will take a short time to have grips of its functions. No need for someone to have technical know-how to use it effectively.

WORKS OFFLINE FOR HYBRID SETUP

It works on a hybrid setup. When the internet goes down, Polaris hybrid version installed to your computer or server can be use temporarily and you can update the online version whenever the internet is up.
Customers that trusts us
What we offer is not just a POS Software, we are known for our exceptional support. We consider ourselves as an extension of the company that we are working with
POWERFUL REPORTING

We believe that every company have distinctive key performance indicators, our team is dedicated in EMPOWERING businesses with data and reports that are relevant to make sound decisions.

Polaris Cloud-based POS is equipped with a great tool to understand your companies Financial health. Generate reports such as Profit and Loss ,Cash Flow, Balance Sheet Statement to see whether your company is on track with your financial goal.

ACCEPT DIFFERENT PAYMENT METHOD

Accept cash, credit card, and other payment type to tap the large Percentage of buyers who prefers merchant That accepts wide spectrum of payment method.
CUSTOMER PROFILE

Polaris Cloud-based POS helps you identify your perfect customer. Customer Data captured can be used by your sales and marketing to curate the strategies on how attract and retain them and make them spend

SBe notified when your stock reaches a certain level. It could be the minimum quantity of stocks, or a certain product nearly reaches it expiration date. Alerts can be imposed on multiple products or fulfillment center depending on your specific needs.
POS Features you'll gonna love
Petty Cash Management

Take control and monitor the small amount of money you spend periodically in the course of business operation. Reconciliate the all the transaction to a ledger inside the POS Software for proper monitoring of your petty cash in and outs

Table Management

Do you have set of tables and you wanted to manage them to increase table turns times? It could be done using Polaris POS for Restaurant . Improve your guest experience and boost your table management performance.

Employee File Database

Polaris POS does not only take care of your money but also the data of your greatest asset, your employee. You can store in the software pertinent documents such as visa expiration, educational certificate, passport copies, insurance certificate for easy retrieval whenever needed..

Bill Splitting

Split payments into a combination of cash and card, or even per item. Polaris POS is flexible and can accommodate different billing situation

Employee Clock in Clock Out

Record your customer in and outs, to have a glimpse of their working hours up to the minute of accuracy.

Business Intelligence

Make sound decision and improve your overall business operations with insightful data analytics. Make sound and data-driven decisions and improve your overall business operations with insightful data analytics.
Check out more features of Polaris POS